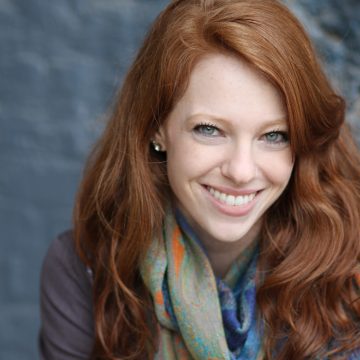 Becca began acting at the age of 4 after her parents enrolled her in an acting class as a desperate attempt to find an outlet for her high energy. From there, she developed a lifelong passion for performing, ultimately leading her to seek a degree in the performing arts. She began her collegiate theatre training at the College of DuPage in Glen Ellyn, IL under the instruction of Connie Canaday Howard and Amelia Barrett. After receiving her Associate's Degree, Becca transferred to UNC Asheville where she earned BA degrees in both drama and mass communication.
After graduation Becca returned to the Chicagoland area and interned at O'Connor Casting before landing a full-time position as Customer Satisfaction Director, Stage Manager and Acting Instructor at Your Performing Arts Center in Yorkville, IL. While working full time at YPAC, Becca continued to grow her own career as a performer and as her opportunities grew Becca ultimately left full-time employment to dedicate more time to her acting and modeling career.
Becca has since had the honor of modeling for many wonderful brands including KaVo Dental, Lewis N. Clark and fashion designer and Project Runway finalist, Shernett Swaby. She recently had the pleasure of playing Tammy Moore in the feature film "Heavens to Betsy 2" starring Jim O'Heir set to release spring of 2019. If you're looking for vacation inspiration, you may see Becca in a principal role on Wisconsin's Tourism Commercial.
You never know where and when Becca's work will pop up (sometimes Becca doesn't either! That's the entertainment biz for ya!). If you spot Becca on an ad in your favorite store or website, or see her on the silver screen in a show or movie you can play "#SpotTheRedhead" and tag her on Instagram or Facebook!